CU CHI TUNNELS
-- Địa Đạo Củ Chi --
Distance: 70km – 1.5 hour driving (from city center)
Cu Chi Tunnels is anunderground defense system in Cu Chi district, HCM City. Built in 1947, approximately 200 km long system, this is a place to hide and conceal weapons and documents of local people during the war against French and American imperialism.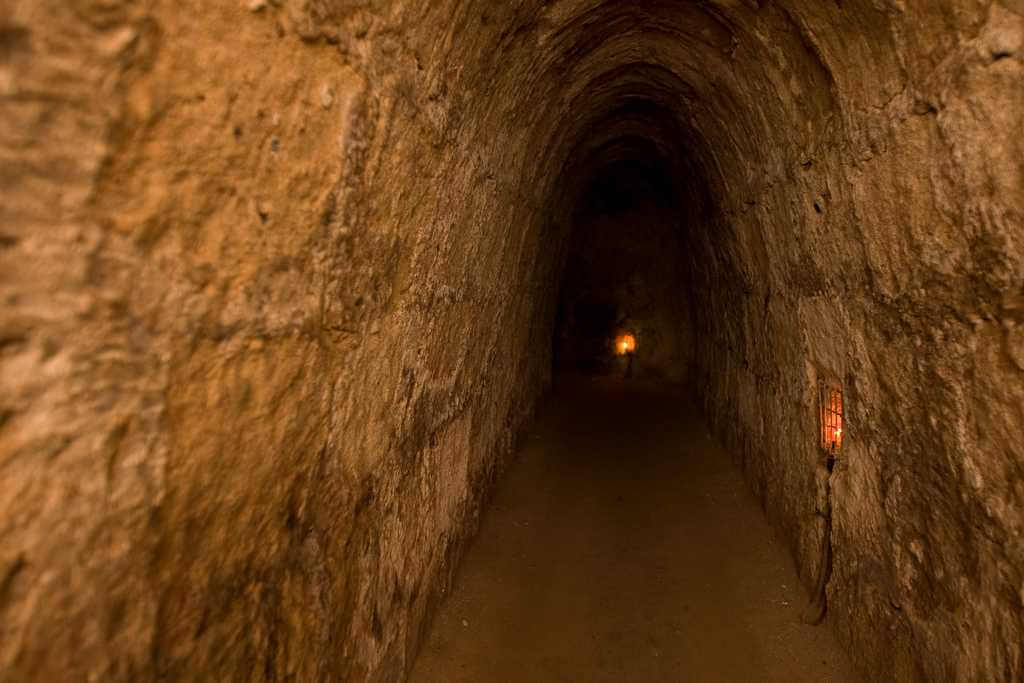 In the period 1946-1948, during the resistance to the French colonialists, the army and people of Tan PhuTrung and PhuocVinhAn town dug someshortand simple tunnel passages used to hide, conceal documents and weapons. Each village build a separate tunnel, butbecause of the travelingdemand between villages, the tunnel system have been linked together to form a continuous and complex tunnel system,and then spread out many places. Tunnels are improvements to harbor Viet Minh force, when fighting they may communicate and support each other.
During 1961-1965, the northern commune of Cu Chi Tunnels finished a shaft gland called the "backbone", and then the unions, agencies and departments developed many tunnel branches to connect the axis lines forming the continuous tunnel among the villages, communes and regions.
Tunnel system has a total length is 200 km, with 3 different deep levels.First level is about 3 meters depth, the middle level is about 6 m, and the last one ismore than 12 meters depth from the ground. At this time, the tunnel was not only a shelter that had become home, first aid area, meetings place, arsenal, etc. Only by very primitive tools and meanssuch as hoesand bamboo dust transporter, Cu Chi people had created a massive work with hundreds of kilometers of roads crisscrossing in the underground, connecting the hamlets together as an "underground village" magic.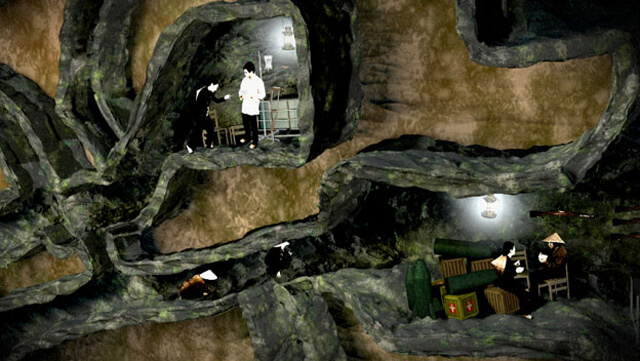 During the resistance war against French colonialism (1945-1954), the revolutionary army refuged under the secret bunker in enemy territory, they were sheltered and protected. Secret tunnel was constructed in many ways, but mostly under the ground, only one open mouth for up and down fit one's shoulders and this is also a vent to breathe. When hatch was closed, the enemies on the ground could hardly detect it. Officers who lived in enemy territory, daytime hidedin underground shelter, only at night came off the tunnel for working.
But the secret tunnel had the disadvantage as being discovered, it was easy for enimies to arrest or kill. From then,people thought that the secret bunkers should be extended to betunnels and bored to the surface with many secret doors so as to not only shelter but also fight against the enemies, and would be able to escape the danger to one other places.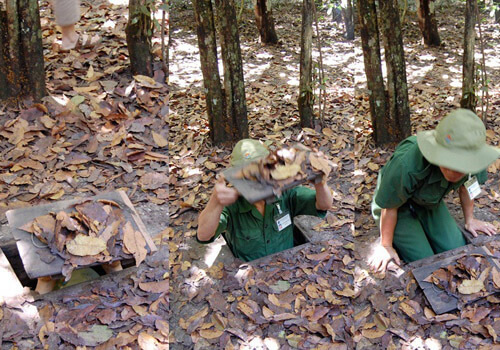 Currently, the Cu Chi Tunnels is preserved two locations:
- Ben Duoc Tunnels (base of Regional Committee, the High Command of Military Zone Sai Gon - Cho Lon - Gia Dinh) in PhuHiep Hamlet, Phu My Hung Commune, Cu Chi District, Ho Chi Minh City and being recognized as aNational Historic Landmark bythe Ministry of Culture and information in 1979.
- Ben Dinh Tunnels (Cu Chi District Party Committee bases) at Ben Dinh Hamlet, NhuanDuc Commune, Cu Chi District, Ho Chi Minh City, and the Ministry of Culture and Information recognized as a National Historic Site in 2004.
The tunnel that you are able to visit is about 120 meters long and has two levels, most of which have been extended for more comfortable visiting. Especially after ended the catacombs, you will be served: sesame salt and cassava, free drinks on the Hoang Camkitchen. Overall this is the most wonderful experience during a visit to the Cu chi for sure. Because you can explore every corner of the famous tunnelin Vietnam as well as in the world.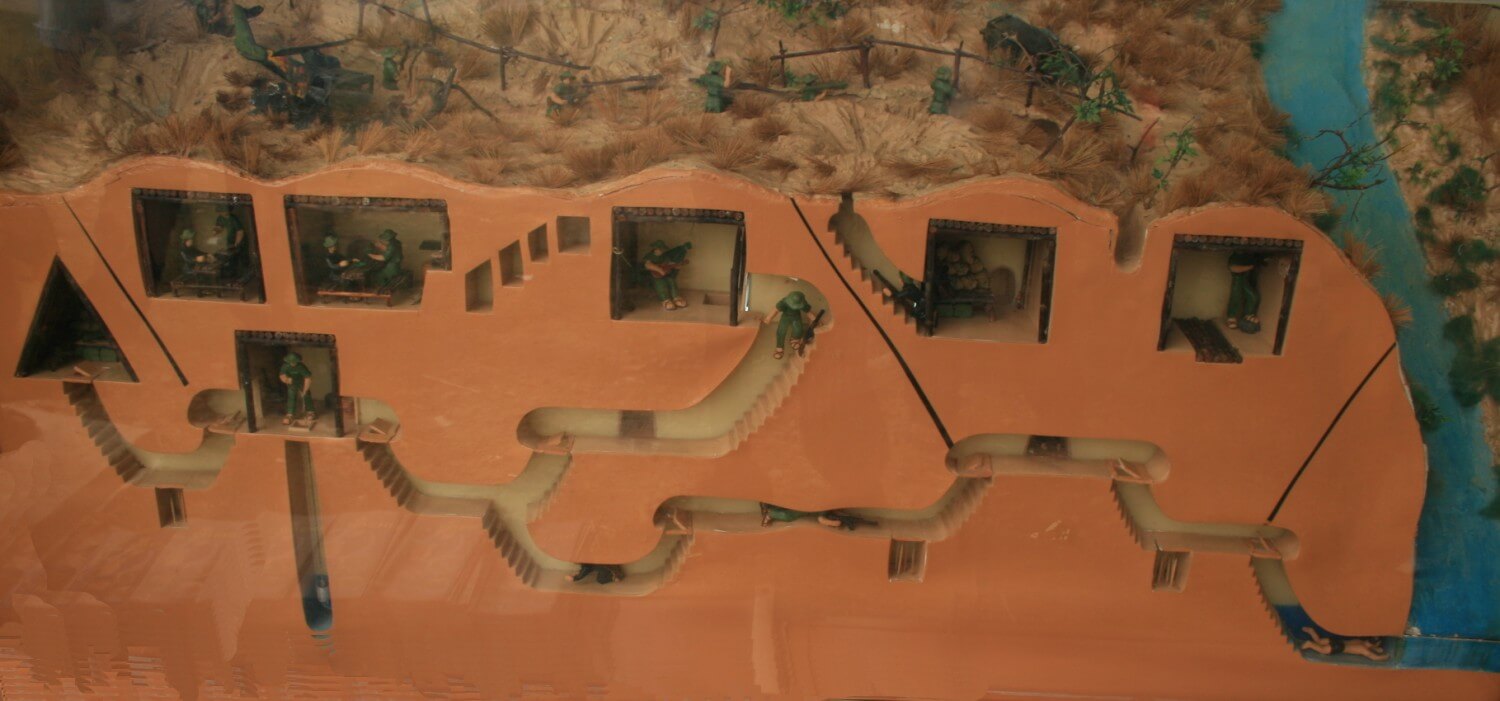 To better understand as well as the best overviewabout the history of the heroic fight of Vietnam, you can notignore two famous attractions: The Independence Palace and War Remnant Museum.