On spring 2018, I had an unforgettable visit Ho Chi Minh City. My first time here was exciting and memorable. I visited hundreds of destinations and their Central Post Office had impressed me the most.
Saigon Central Post Office is located in the Notre-Dame Cathedral square and is known as one of the typical symbol buildings of Ho Chi Minh City. It's one of the top places to visit in Vietnam. The Post Office is one of the famous buildings of the city. Unlike any other modern architecture, Saigon Central Post Office has a bold European feature of architecture that combined with Asia style of construction.
As an attractive tourist destination, Central Post Office is the biggest and the most beautiful post office in Vietnam. It was built from 1886 until 1891 by Gustave Eiffel, the famous architect of Eiffel Tower in Paris. The dome and arched windows are reminiscent of the first railway stations in Europe. This was one of my unique places to see in Vietnam!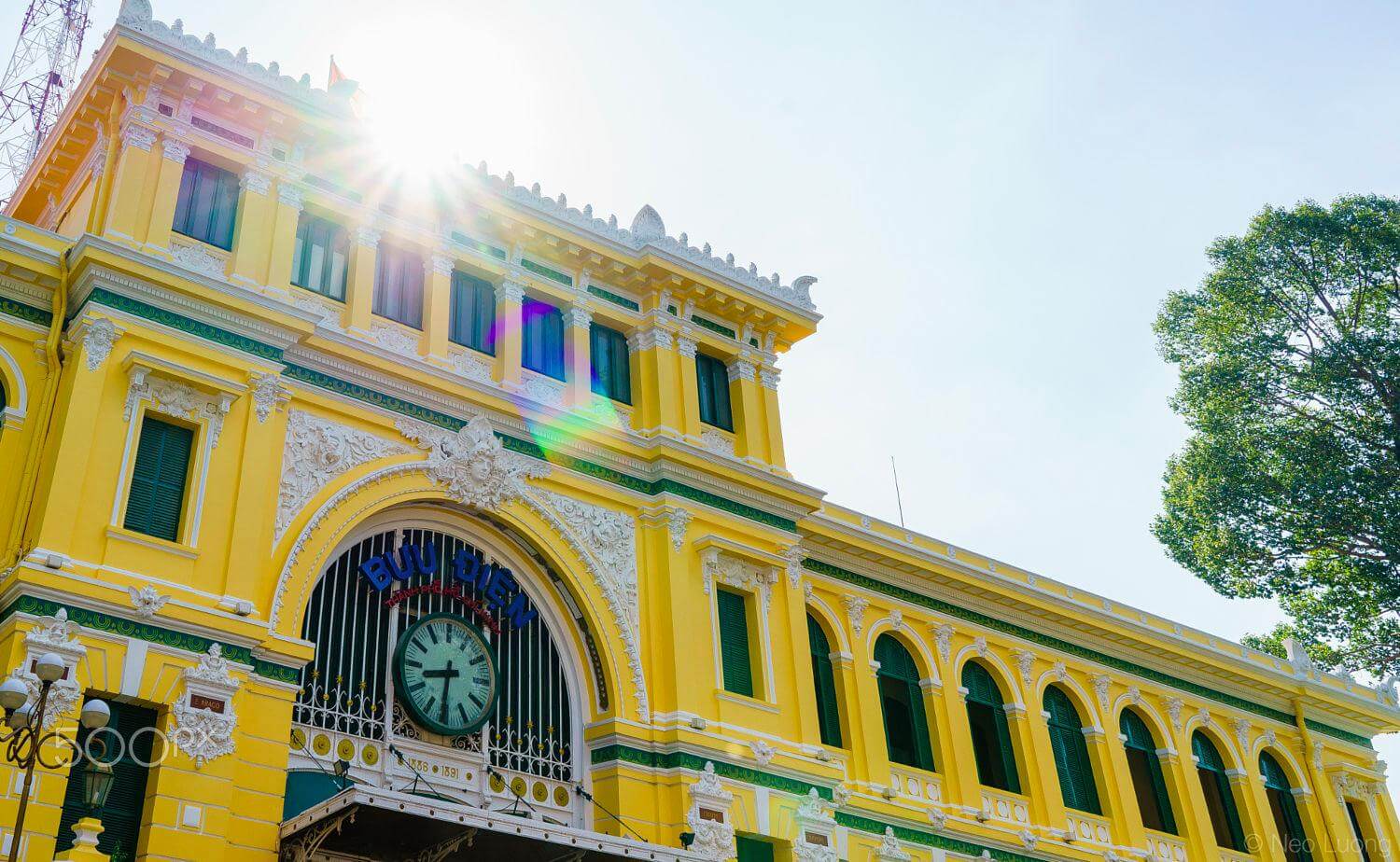 Its facade is named with French celebrities such as Laplace, Voltaire, Arage, and some scientists creating the postal sector. Two small gardens in front of the building are two monuments of postal development in modern times, it was built at the occasion of celebrating the 300th anniversary of Saigon. Stepping in to the building, I found two large historical maps of Saigon, postal counters, tour desk named Vietcruise Tours, and traditional souvenir shops. There is a large portrait of Uncle Ho (Mr. Ho Chi Minh, Vietnam first communist president) hung on the high looking down as if he is enjoying the time-honored masterpieces. Among lots of modern houses, the unique beauty of the post office is much more honored. In front of the post office is the Notre Dame Cathedral with two super high bell towers. This harmonious combination turns this place into an outstanding place that brings old beauty, and just filled the breath of modern life. And also adding to my list of Vietnam places to visit, made it so much memorable. It was my interesting experience when to travel to Vietnam; I could not forget the superb beauty of the whole area.
I am most impressed by large arched entrance and a lot of arched lines attached along the ceiling. The whole ceiling is held up by two row of pillars which are elaborately designed and engraved with beautiful patterns. Also, there are two historical maps on the walls. The map on the right is a map of Saigon drawn in 1892, and the left is a map of power or electricity lines of Vietnam and Cambodia in 1936. Look at their ages, these are extremely precious and valuable. They must be a witness for all the changes of Saigon Post Office as well as Ho Chi Minh City. You all should come here to enjoy its vintage beauty and listen to the history of the city when to travel to Vietnam.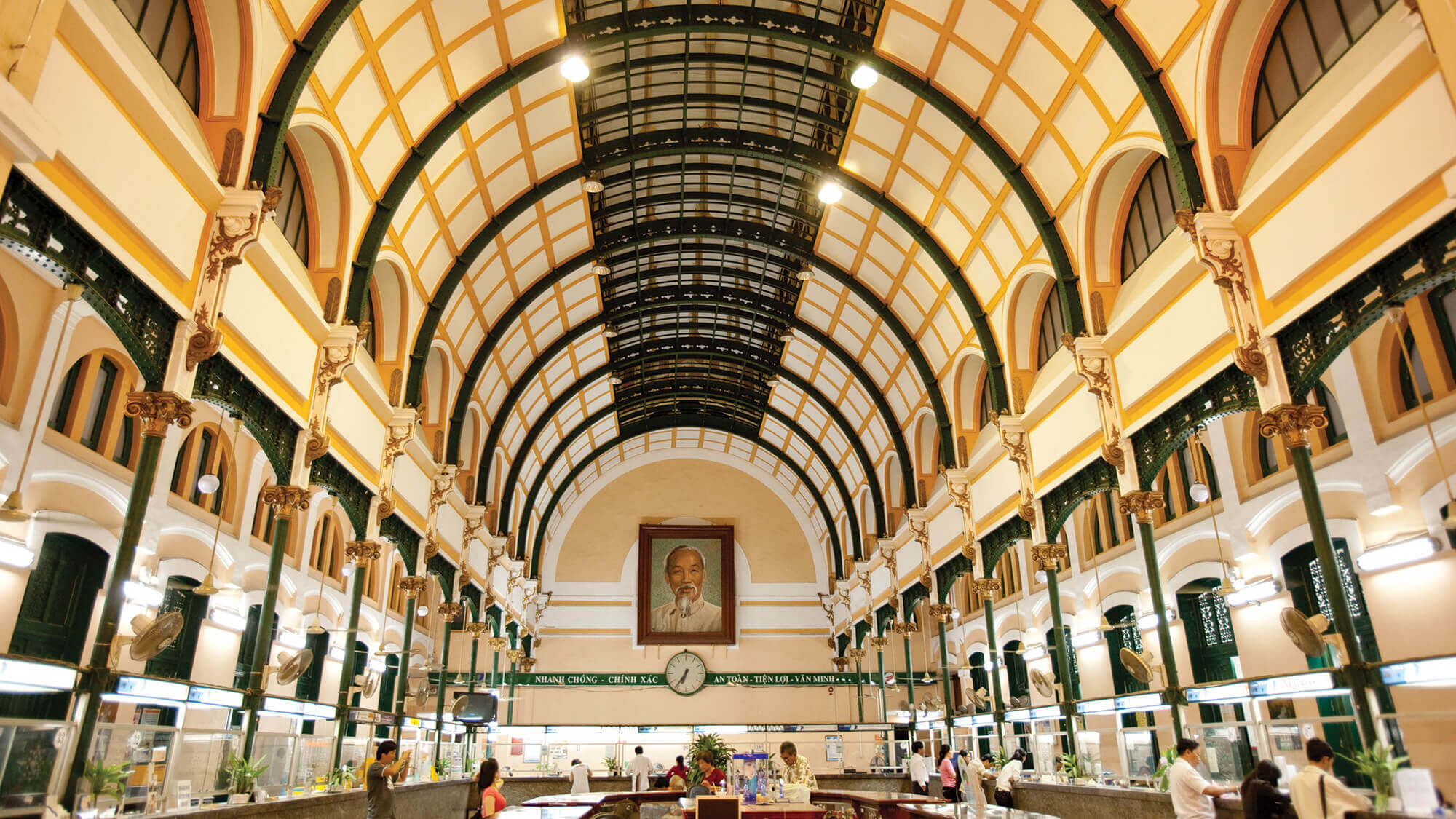 At the outside of the post office, each pillow of the building is attached a rectangle board. Twenty board are carved twenty name of people who are inventors of the telegraph and electrical industry such as Laplace, Voltaire, Arage and Gay-Lvssac. A small detail but a huge effect, the place makes me feel satisfy and would like to come back again to learn more and more about its stories. If there is anyone asking me about which places to see in Vietnam or which places to go in Vietnam, I definitely introduce him or her going to this post office. It is one of my favorite Vietnam places to visit.
Today, with the development of internet, mobile phones and other transportation services, the post office in Saigon center is no longer busy with transactions as before. Having lived in this land for 150 years, Saigon Post Office has witnessed how many ups and downs of city's history, how much change taken place in a southern city of Vietnam. Today, Saigon Post Office becomes a tourist destination that can not be ignored when visiting Ho Chi Minh City.
Most of tourists come here to view the unique architecture of this post office or to be immersed in a world of antiquity, from letter boxes to telephone counters. Tourists can also rest on the benches of polished wooden varnish which has been served its customers for hundred years. Stepping into the post office, as if the time stops running suddenly, in every corner, the sight of an old Saigon have been preserved and expressed the most.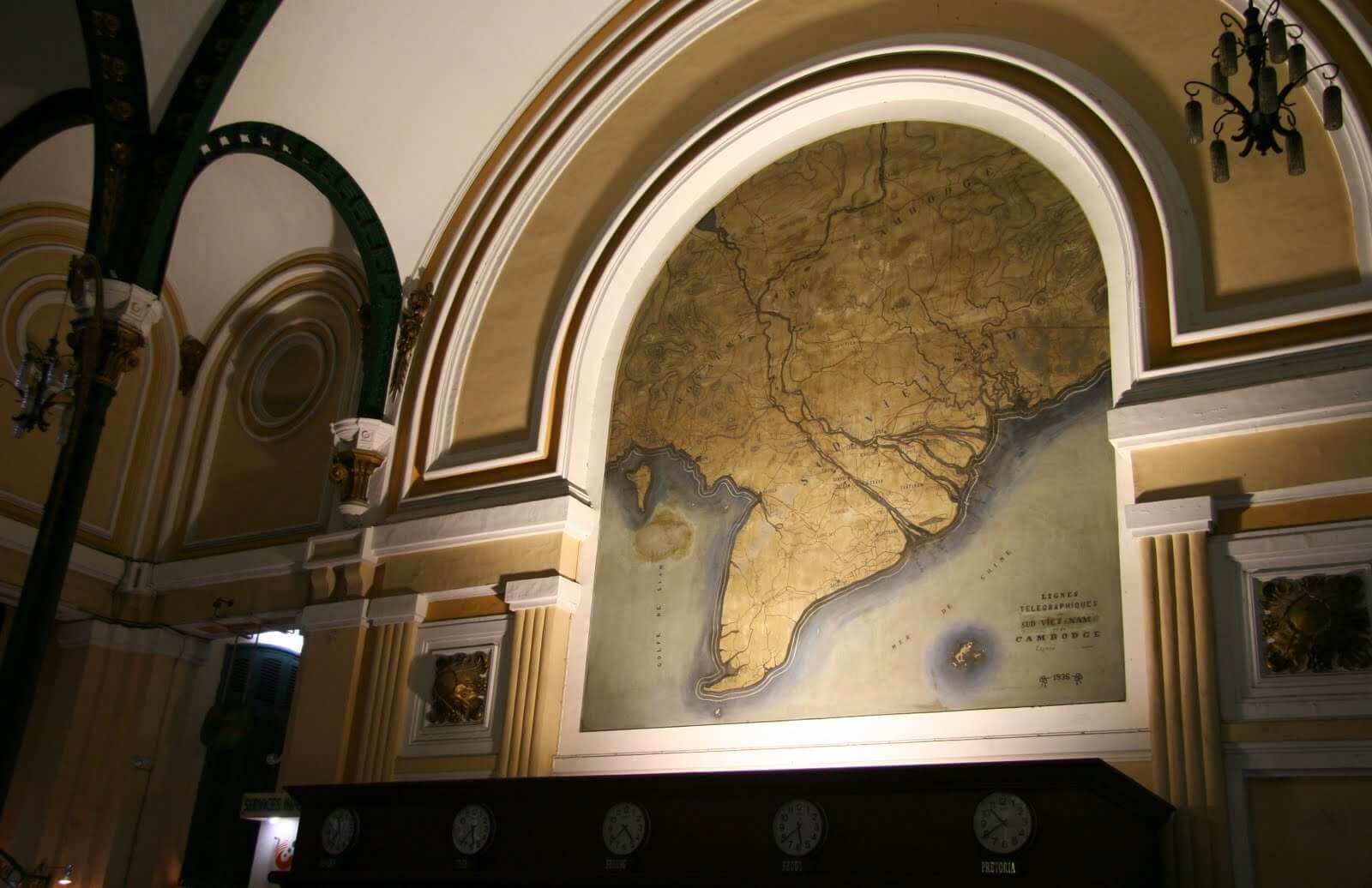 The central post office is open to serve public visiting with modern communication services beside many traditional services such as express mail, express mail, souvenir culture, flowerpot and electricity. phone...
Four rows of large wooden tables lining deep inside and near postal services in order to serve the people who need to declare and write letters, postal mails or just enjoy the rush of people business in here.
According to other visitors I met at the post office, sending postcards from the Saigon Central Post Office to their relatives and friends is an interesting way to keep in touch in the modern times. They found it is much easier than they did several years ago.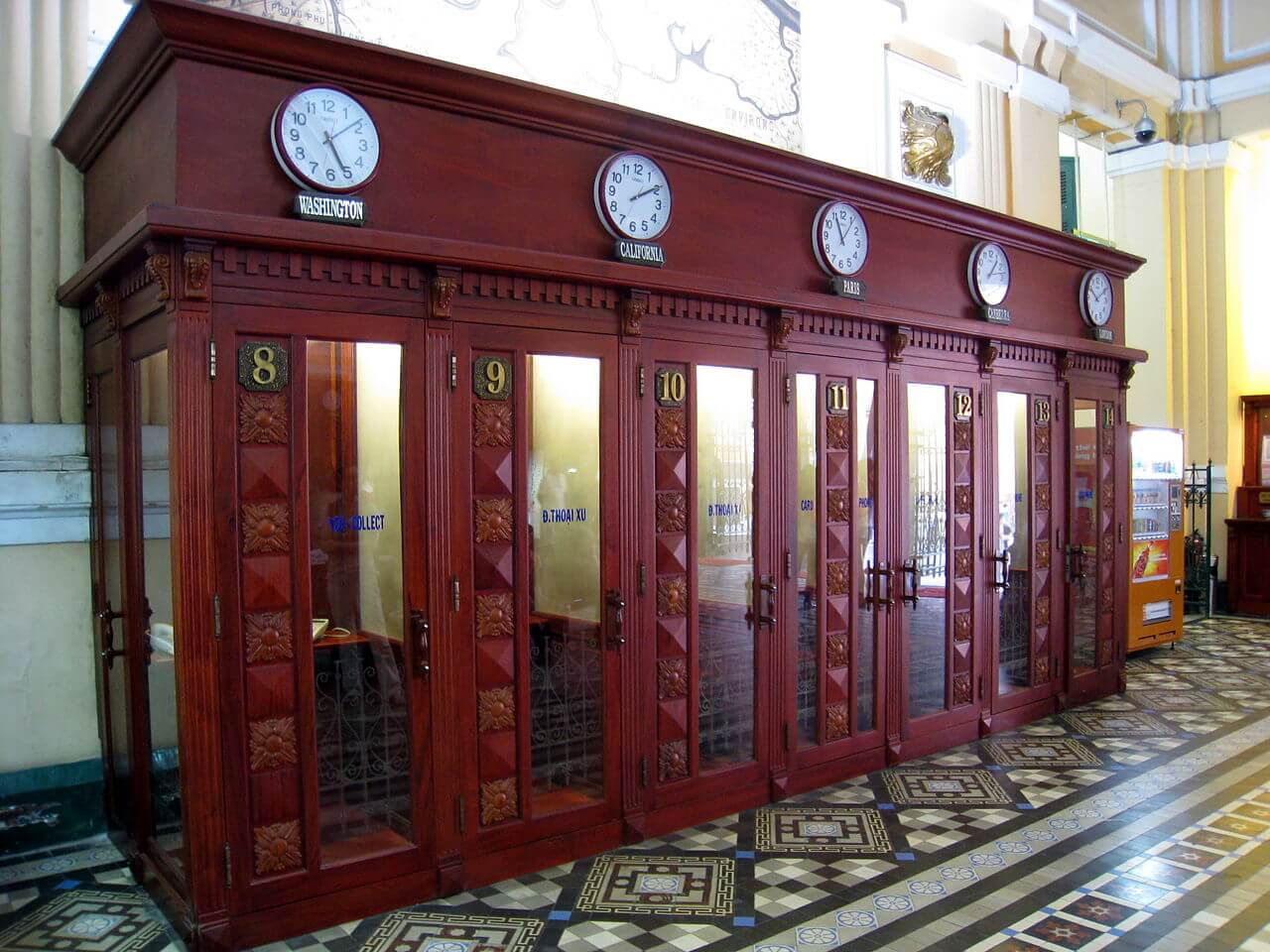 Mr. Duong Van Ngo, used to be a staff of Saigon post office from 1952, is believed to be the last letter writing helper in Ho Chi Minh City. Although, he has retired for 28 years (since 1990) but he is still fluent in both English and French, today he keeps working here as a passion of his helpful job. The mentality of the "public letter writers" is that they can serve people until they are not healthy enough, as well as help people remember the letter as a bit of remnant about the time when the Internet was absent.
Over a hundred years of existence, Saigon Post Office Building is still a beautiful and impressive architecture. Central Saigon Post Office building along with Notre Dame Cathedral, making into an interactive architecture, creating a unique point for the city not only at its founding but also now today.