Source: Youtube channel K-Royale Flycam
Known as a lotus bud tower as local calling, Bitexco Financial Tower is a tallest skyscraper in Ho Chi Minh city, Vietnam. The building was completed in 2010, with 68 floors above ground and a height of 262.5 meters making it the tallest building in the city, the third in Vietnam after Keangnam Hanoi Landmark 72 and Lotte Centre Hanoi and the 124th tallest in the world (2016). CNN.com named the Bitexco Financial Tower one of the 25 Great Skyscraper Icons of Construction in 2013. And in 2015, named the second Coolest Skyscraper in the World by Thrillist.com.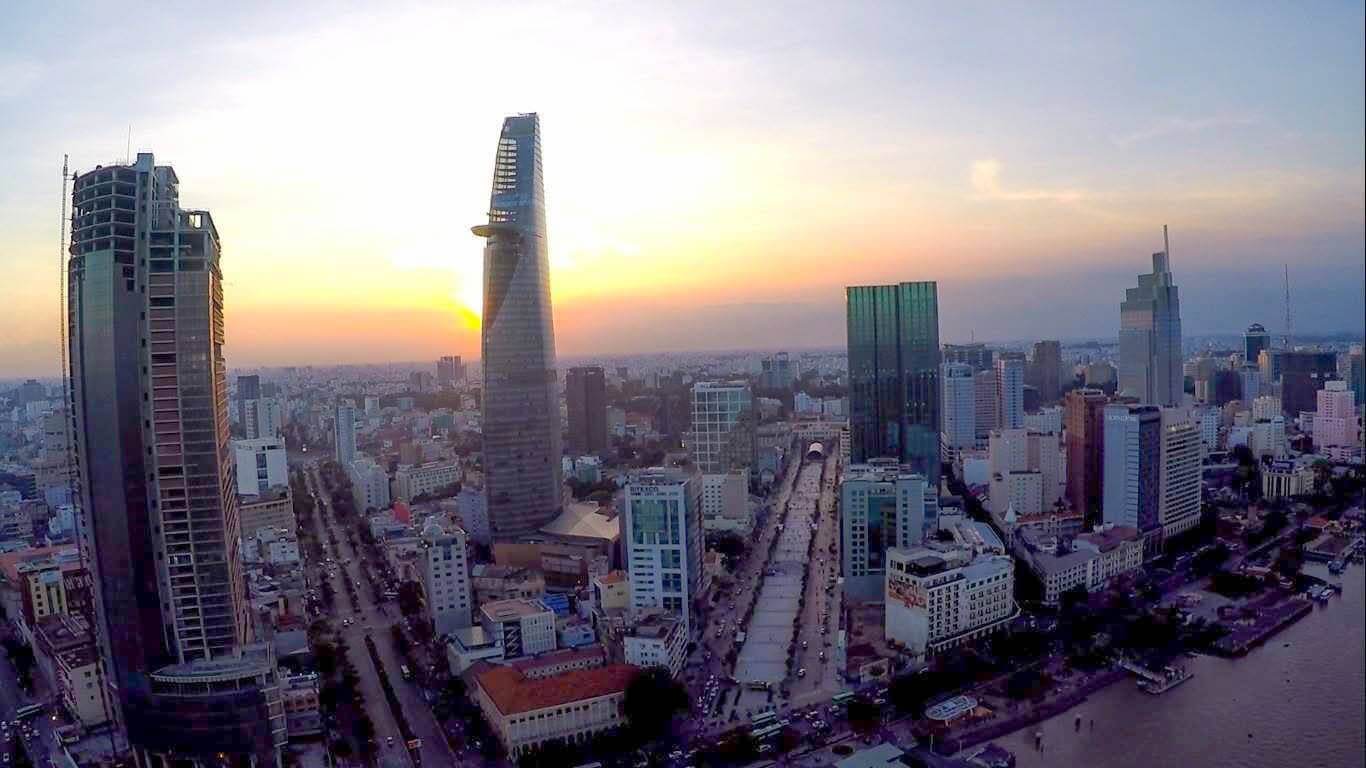 The tower was designed by Carlos Zapata – Design Principal and Founder of Carlos Zapata Studio, with French company AREP as architect of record. Inspired from Vietnam's traditional flower – the Lotus, the building became one of the most famous symbol of the city.
Spotlight design features of the tower is Glass Walls system, Helipad, Vertical Transportation & Saigon Skydeck on 49th floor.
Glass Walls system
All of glasses was purchased from Belgium and shipped to China for manufacturing. Once in China the low iron heat strengthened glass was cut into 6,000 individual panels which were double glazed with the outside layer being 8mm thick and internal air space of 12mm and an internal panel of 8mm. Then, the glasses were shipped to Ho Chi Minh City and the panels were installed as the building grew higher. Each of the 6,000 sleek glass panels enveloping the Bitexco Financial Tower is individually cut to unique specifications because each floor is unique, giving the building its eye-catching shape.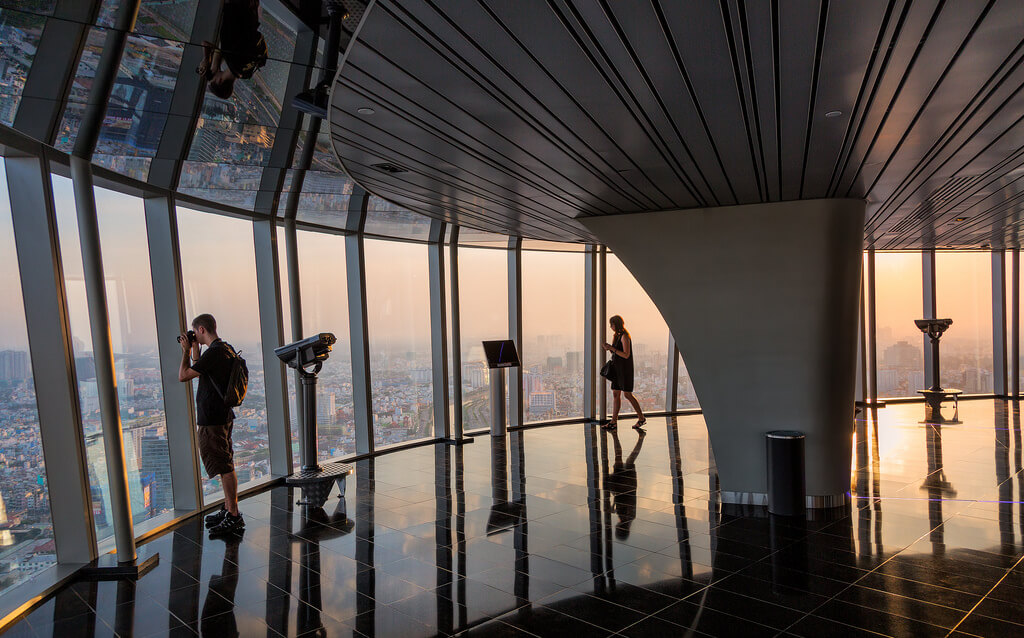 Helipad
The helipad located on the 52th floor southern side of tower and formed as a blossoming lotus bud. With 250 tons of structural steel and requiring 4000 ultra-strong bolts to hold, the helipad took almost a year to plan, build and coordinate before it could be hoisted to its place at height around 191 meters and took nearly 2 months for installation. Most of the materials were purchased from Europe and South Korea, manufacturing in Bu Gang, Korea.
Vertical Transportation
With speed up to 7 meters per second, it was the fastest lift system in South East Asia at the time of installation. There are 3 separate elevator zones servicing the tower with 14 passenger and 2 service lifts, plus further lifts to serve the retail and parking areas.
Saigon Skydeck on 49th floor
The Saigon Skydeck soft opened for visitors from overseas and domestically on January 1, 2011, officially opening in July that same year. The observation deck offers 360 degree panoramic views of Ho Chi Minh City, guest facilities and a gift shop. Saigon Skydeck opens daily and a ticket costs around $10.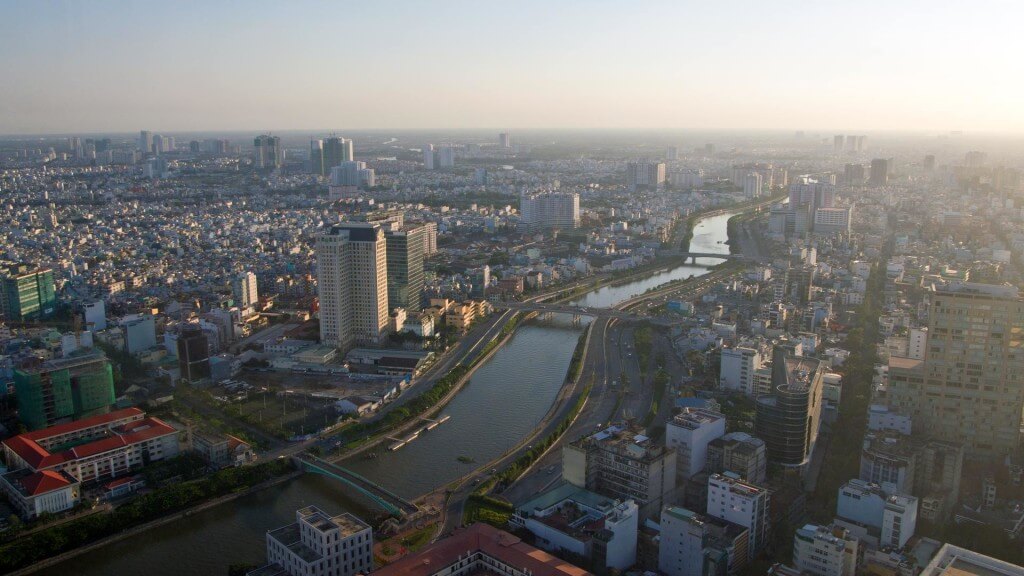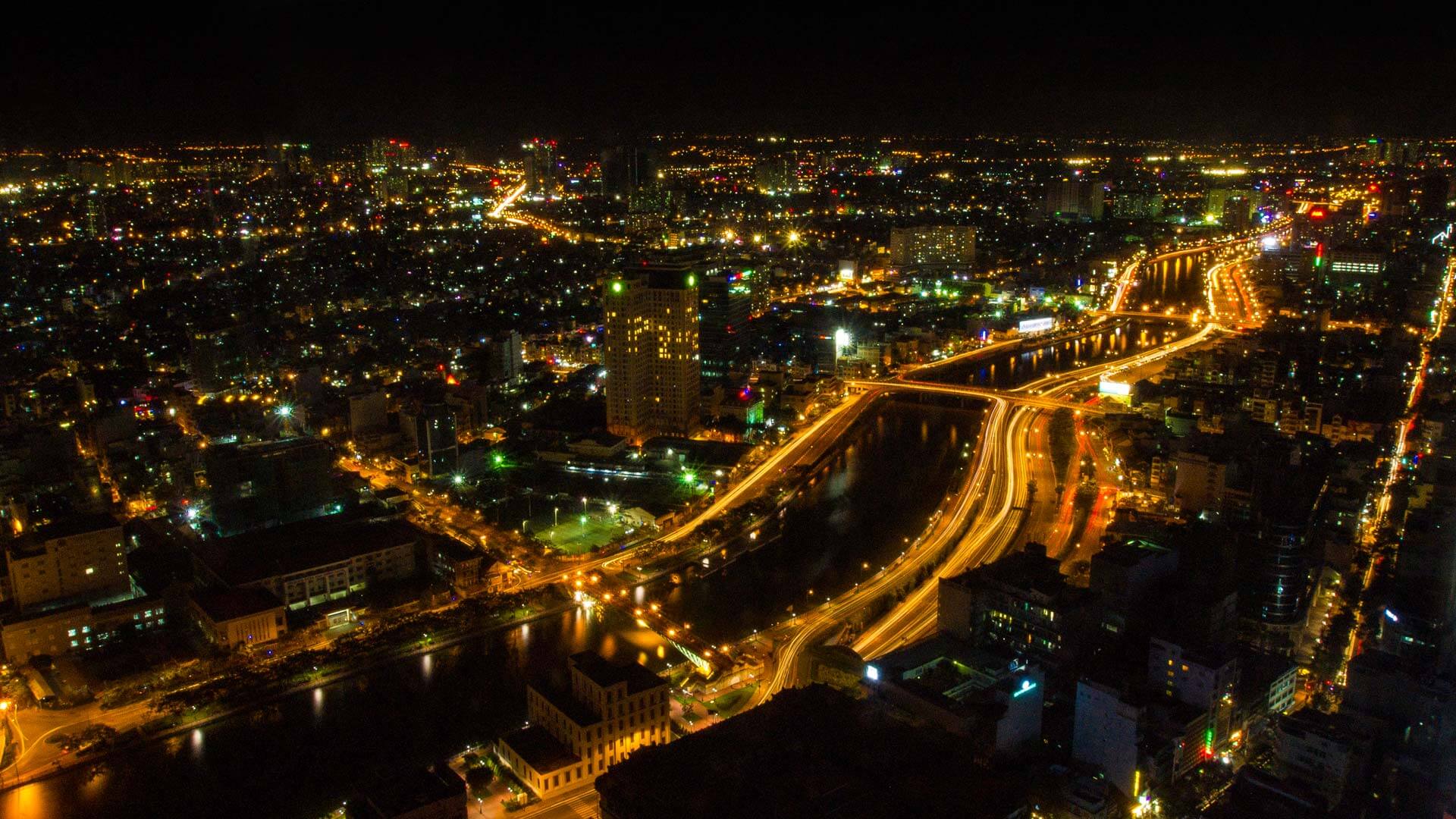 How to visit there?
Located on 2, Hai Trieu Street, Ben Nghe ward, District 1, HCMC, it takes easy to get there by walking, cab or cyclo. At the Grand Atrium Lobby, you can ask the receptionist for these options:
Observation & Skydect on 49th floor
EON café on 50th floor
EON fine-dining restaurant on 51st floor
EON Helibar, bar and nightclub on 52nd floor
Observation & Skydect Visiting
Ticket fares: 200.000 VND per adults; 130.000 VND per children under 120cm and oldster (two children under 80cm are free when accompanied by 2 full paying adults).
Daily opening with the viewing hours are:
Monday – Friday: 10:00 AM – 09:30PM
Saturday, Sunday & holiday: 10:00AM – 10:00PM
*** tickets should be bought 45 minutes before closing time and you can stay away up there for an unlimited time.
Ticket included: round-trip transfers by evaluator, city panoramic sightseeing from 49th floor by binoculars, mineral water (self-catering).
Activities:
Binoculars are disposed a 360 degree round building. You can observe the panoramic view of city from 4 side. From western view, East-West Highway goes along the creek divining city into 2 part with District 4, 8 in the left side and District 1, 5, 6 in the right side. From southern view, residence in centre of district 4 is displayed there and connected to District 7 with farther is Nha Be, Can Gio district. From eastern, District 2 is in the opposite Saigon riverside with rows of luxury apartments and villas and spreading out to northern view, main city is taken by there.
Besides, the information board displayed about forming and developing history of the city from Saigon to Ho Chi Minh city provides to visitors general knowledge of the city.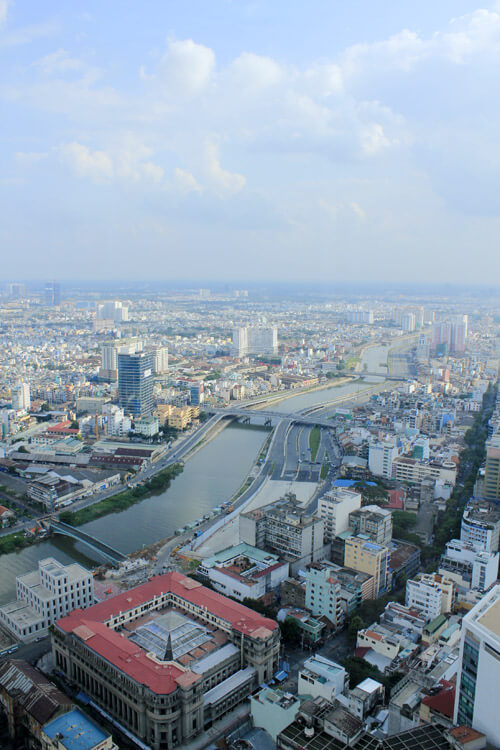 Should it be visited Skydeck or EON café?
Skydeck on the 49th floor and EON café on the 50th floor are nearly same height in the tower. Which should to visit?
The most beautiful scenes of the city will be clearer in the sunny day-time. Furthermore, binocular is the best assistance to catch the expected panoramic views and some brief historical information is always easy to find out. That's all for those who are finding the easiest way to discover Ho Chi Minh city. That why you should take a snapshot of Saigon by 191 meters and binocular's assistance on 49th floor.
Gorgeous light city view accompanied to a hot or ice traditional coffee is the best combined in Saigon at night. Couple dates are more romantic if they could take a city night view with kisses. Family is warmer on beautiful night dinner in one of the highest rooftop restaurant of the city. That's the reasons make us do the night on EON 50th, 51st, 52nd floor.
Let's make your own impression of the city.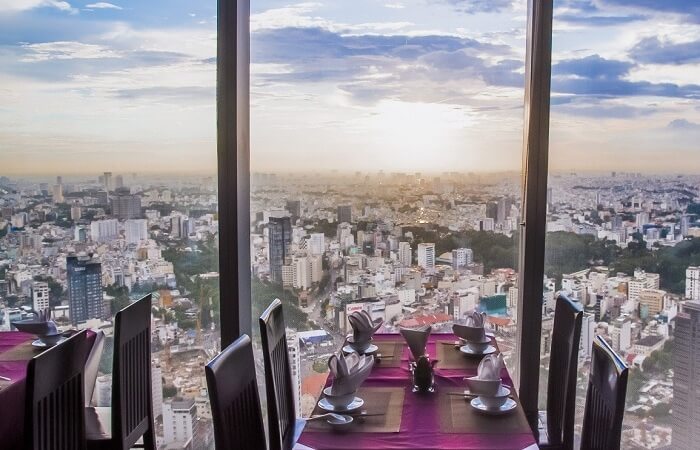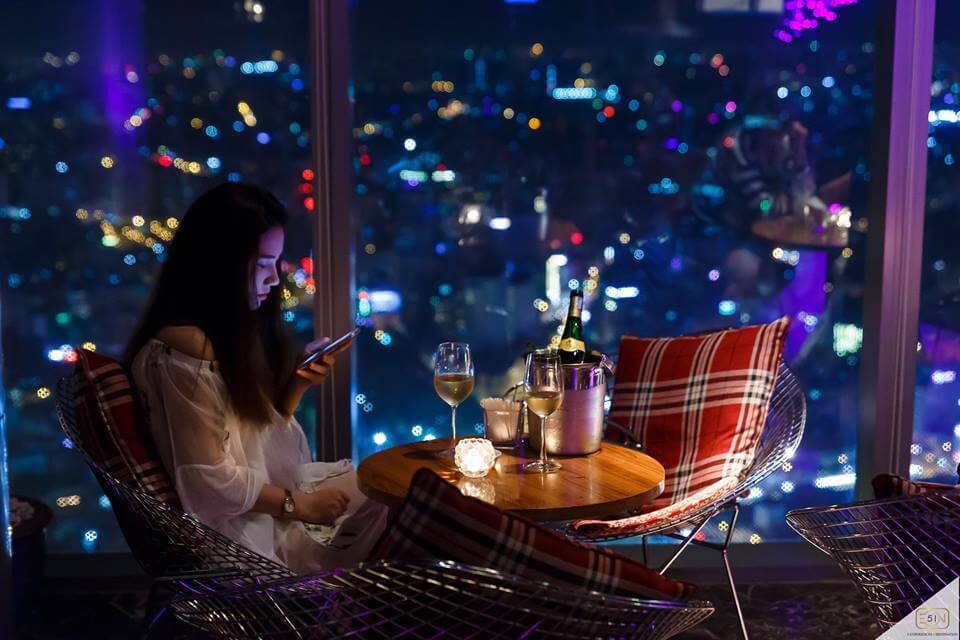 Reference:
Wikipedia.com
Photo by linhnam (phuot.vn)